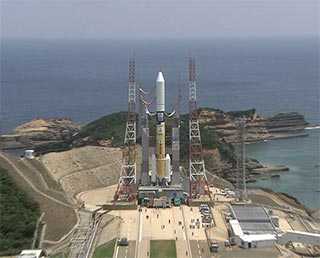 from phys.org: Bad weather will delay the launch of a Japanese space probe on a
six-year mission to mine a distant asteroid, just weeks after a European
spacecraft's historic landing on a comet captivated the world.
Hayabusa2 had been set to blast off aboard Japan's main H-IIA rocket from Tanegashima Space Center in southern Japan on Sunday.

But thick cloud expected over the weekend means scientists need to
postpone the launch, a statement by the Japan Aerospace Exploration
Agency (JAXA) said.

"The new launch day will be announced as soon as it is determined," it added.

The 31 billion yen ($260 million) project is sending a probe towards the unpoetically-named 1999 JU3 asteroid in deep space.

It will blast a crater in the asteroid to collect virgin materials
unexposed to millennia of solar wind and radiation, in the hope of
answering some fundamental questions about life and the universe.