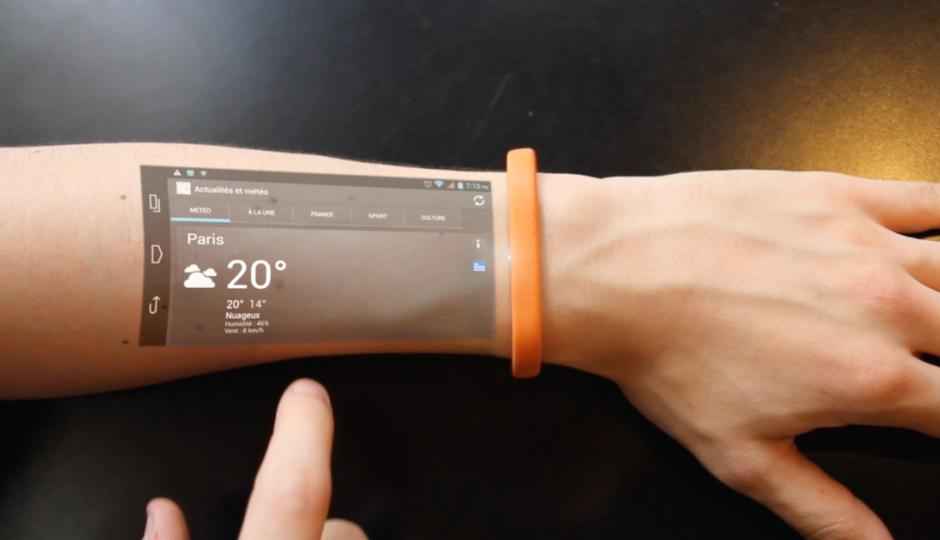 from
digit.in
:
A
new Cicret bracelet can detect your gestures and projects a screen onto
the skin, so you can take calls, check your emails, read books, all
from your arm.
Designed by
Paris-based design company, the prototype bracelet can remotely connect
with a mobile device and emits the interface onto the wearer's arm. The
prototype comes with a projector and a row of eight proximity sensors
that pick up your finger movements allowing you to read emails, play
games, answer calls and check the weather on the surface of the skin.
The
device will be packed with an accelerometer and a vibration module,
along with an LED for notifications. The device will support Wi-Fi,
Bluetooth and a Micro USB port for connectivity.
The
company has shared a promotional video on its site which has got over 4
million views on YouTube. The video shows the physical interaction
between user and product, with the user swiping and tapping through the
various applications and communicating with their smartphone via their
forearm. However the company has clarified that the prototype will be
ready in the next 2-3 weeks and the images shown in the video are mocked
up, for demonstration purpose only.