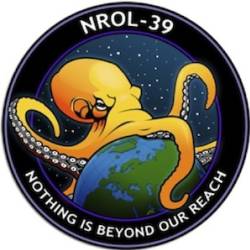 from latimes.com: A 19-story-tall rocket launched from Vandenberg Air Force Base late Thursday night, carrying a secret payload for the U.S. government.

An Atlas V rocket blasted off from Space Launch Complex 3 at 11:15 p.m. PST, lighting up the night sky as it roared into orbit.
The mission was carried out by United Launch Alliance, a joint venture of aerospace giants
Lockheed Martin Corp.
and Boeing Co., for the National Reconnaissance Office.
The government agency operates the nation's system of spy satellites. As usual, it has not disclosed any information about the mission, called NROL-39 (logo pictured).
United Launch said
that 12 small spacecraft, called CubeSats, were also sent up as part of the mission.
The Army
disclosed Friday that it developed four of the nanosatellites, which will remain on orbit for "several years" supporting experiments before burning up in the Earth's atmosphere. The spacecraft represents the first U.S. Army-designed and -built satellites in more than 50 years, it said.