'safe america' announces national 'drill down' for 9/11;
terror tests for pandemic preparedness
9/11 drill for simulated plane crash 5min before pentagon attack

from history commons: Five minutes before the Pentagon was hit on September 11, 2001, a training exercise being run by a US intelligence agency just over 20 miles from the Pentagon was set to include the scenario of a small private jet plane crashing into a building. It is unclear whether the scenario was played out, or if the exercise had been called off by that time. Important details of the exercise, which was being conducted by the National Reconnaissance Office (NRO) at its headquarters in Chantilly, Virginia, are revealed in a document obtained by the 9/11 Commission. The document, titled "Early Morning Flight Activity September 11, 2001," was part of a series of 9/11 Commission records moved to the US National Archives at the start of this year… The Associated Press has revealed that no real plane was going to be used in the exercise, and the crash was to be the result of mechanical failure, not terrorism.
nyccan submits 28k more signatures for 9/11 investigation on nov ballot; ny allows petition to go forward
kurt sonnenfeld, fema videographer on 9/11, blows the whistle

from voltairenet: As official videographer for the U.S. government, Kurt Sonnenfeld was detailed to Ground Zero on September 11, 2001, where he spent one month filming 29 tapes: "What I saw at certain moments and in certain places … is very disturbing!" He never handed them over to the authorities and has been persecuted ever since. Kurt Sonnenfeld lives in exile in Argentina, where he wrote "El Perseguido" (The Persecuted). [Here] is an exclusive interview by The Voltaire Network.
arianna huffington: i 'despise' 9/11 truthers
working toward 2013 opening for 9/11 museum

from newsday: The worn New York Giants T-shirt and Penn State baseball cap were among the prized possessions of Richard Caproni, a former North Babylon High School football captain known for his fierce team loyalties and booming laugh. Already, they are part of the permanent collection of the National Sept. 11 Memorial and Museum – a gift from his parents. "What we donated were things very dear to Richie," his father, Richard Caproni, 67, a former North Babylon resident, said in a telephone interview from his home in Ocean Pines, Md. "They had significant meaning to us, but we knew it would be better to have it preserved there for eternity." Construction of the museum, as with many elements at the World Trade Center site, is behind schedule. But there has been progress, with officials working toward a 2013 opening. The foundation work has been completed and some of the permanent artifacts – including the Survivors' Stairs and the Last Column recovered from the trade center rubble – were installed at the site in the past nine months.
flashback: the abc's of numerology –
new york, 9/11; madrid, 3/11; mumbai, 7/11
nyc buildings graft shocker:
mob-tied building inspectors in bribe & drug scandal
from nypost: At least six city building inspectors – some with ties to a powerful crime family – were videotaped taking bribes at construction sites, and some were seen dealing cocaine and prescription pills while on duty, The Post has learned. The corrupt Department of Buildings workers – who lined their pockets by ignoring violations or expediting construction and building work permits – will be arrested later this month, along with about two dozen Luchese crime-family captains, soldiers and associates, sources said…
The nearly two-year probe grew out of a 2007 New Jersey case involving a Luchese faction that ran a staggering $2 billion-a-year gambling operation and supplied drugs and cellphones to Bloods gang members in state prisons. That probe – which netted 32 wiseguys – soon spread across the Hudson River into the family's Big Apple hierarchy, prompting surveillance and wiretapping by the NYPD and Manhattan District Attorney Robert Morgenthau's office, the sources said. The probers, who made hundreds of hours of recordings, quickly found mobsters taking bets and conducting loan-sharking operations worth tens of millions of dollars…
This will be the latest scandal to rock the city's Department of Buildings, which is still reeling from its failures at the doomed Deutsche Bank tower that contributed to the deaths of two city firefighters in August 2007.
doonesbury slams 9/11 truth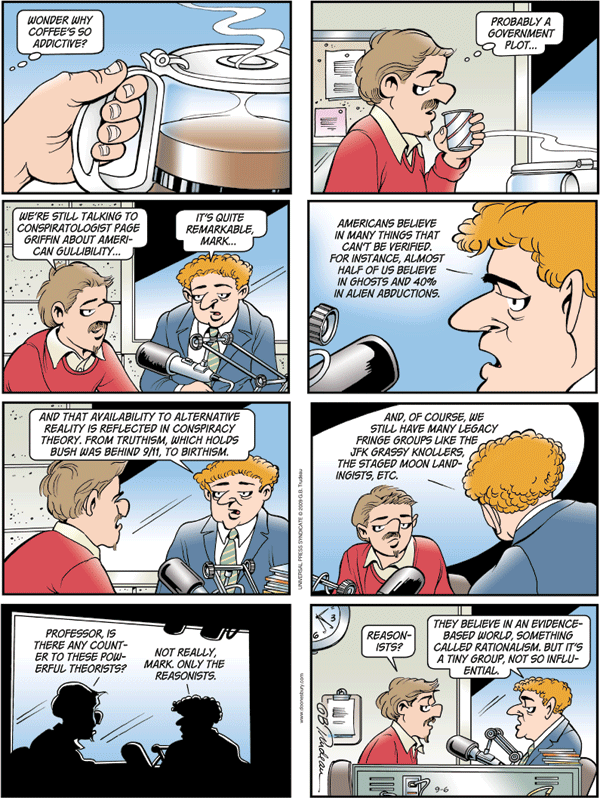 islamonoia: 'is another 9/11 set to unfold?'*
world architecture news publishes article:
conspiracy theory or hidden truth? the 9/11 enigmas*
the irrefutable case for 9/11 truth*
too many 9/11 commission questions still left unanswered*
charlie sheen's fantasy meeting with obama over 9/11 cover-up*
video: sheen's message to obama*
national geographic does 9/11:
another icon debased in service of big lie*
video: the world wildlife fund & the 9/11 tsunami*
updates from 9/11/9:
obama, in first 9/11 as president,
honors victims' memory with moment of silence*
this 9/11, obama has the bullhorn on terrorism*
video: informant says fbi threw away chance to catch atta*