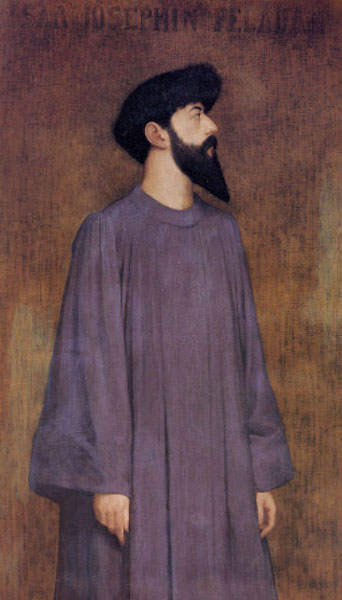 from disinfo.com: Sasha Chaitow, founding director of the Phoenix Rising Academy, and PhD candidate at the Centre for the Study of Myth at Essex College in the UK, has recently shared a fine selection of translated writings from the 19th century French Symbolist, artist and novelist Joseph Péladan. Aside from the beautiful translation, it reads like a hymn to creativity; and for you magickal artists out there, I think it might strike a resonant chord with the arguably hidden meaning and occult purpose behind our creative endeavors.

Here's an excerpt from her translation:
EXHORTATION
Artist, you are a priest: Art is the great mystery and, if your effort results in a masterpiece, a ray of divinity will descend as on an altar. Artist, you are a king: Art is the true empire, if your hand draws a perfect line, the cherubim themselves will descend to revel in their reflection. Spiritual design, a line of the soul, form of understanding, you make our dreams flesh. Artist, you are a mage: Art is the great mystery, it only proves our immortality.
…
[This is] the absolute rejoinder to pedantic quibbles : we doubt Moses, but here is Michaelangelo; we misunderstand Jesus, but here is Leonardo; we secularize everything, but immutable, sacred Art continues its prayer.
…
[21]
You may one day close the Church, but [what about] the Museum? If Notre-Dame is profaned, the Louvre will officiate… Humanity, oh citizens, will always go to mass, when the priest will be Bach, Beethoven, Palestrina: one cannot make the sublime organ an atheist! Brothers in all the arts, I am sounding a battle cry: let us form a holy militia for the salvation of idealism. We are a few against many, but the angels are ours. We have no leaders, but the old masters, up there in Paradise, guide us towards Montsalvat… This precious Church, the last august thing in this world, banished the Rose and believes its perfume to be dangerous. Next to it then, we will build the Temple of Beauty; we will work to the echoes of prayers, followers, not rivals, different,
[22]
not divergent, for the artist is a priest, a king, a mage, for art is a mystery, the only true empire, the great miracle… Jesus has not cursed this world. Jesus receives the adoration of art. The noble enthusiasm of the artist will survive beyond extinct, erstwhile piety.
Continue reading here.