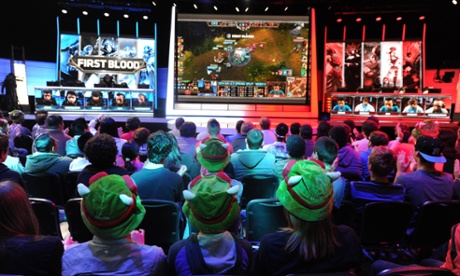 from alistdaily.com: Think eSports is just a temporary fad? You don't know competitive gamers. A report from IHS Technology shows that the numbers for eSports
viewing are on the rise, to the point of showing double the growth over
the previous year. The report shows that 2.4 billion hours of eSports
were viewed over 2013, nearly double the growth of the 1.3 billion that
watched the previous year. Out of all available games, League of Legends was the most popular, with DOTA 2 and StarCraft II following
closely behind. In terms of markets, China was the highest rated,
although the U.S. and South Korea have their fair share of audience as
well. "While advertising in and around games has often proved to be a
difficult position, advertising in online video is commonplace," said
IHS director Piers Harding-Rolls. "This form of advertising gives games
companies a much better opportunity of accessing the advertising value
chain in a successful and meaningful way and offers these companies a
route to profitable return on investment from their eSport initiatives." Expect the numbers to continue on the rise for this year.